ANCHOR IN ITALY – SAIL TO CROATIA!
Berth your boat in Italy on the Adriatic coast... the perfect place to sail to Croatia in just a few hours sailing trip.

Our berth places will accomodate your sailing boat or catamaran at exclusive rates on the Adriatic Riviera in Italy in the city of Ancona, situated on the same side as Venice and Rimini.

Berth your boat in Ancona's Marina, enjoy the Italian way of life on the Adriatic coast and visit Rome, Venice, Bologna or Florence during your stay in Italy. The Croatian islands are just 6 hours sailing trip away from Ancona.
HOW TO GET HERE
Ancona is well connected with both central and northern Europe. It is really easy to get here with direct daily flights to Ancona or Bologna airport. A fast train service connects Ancona to the major Italian cities.
BY PLANE
15 minutes from Ancona Airport (AOI): daily and direct flights to Dusseldorf, Munich, Brussels, London and Rome (4 times a day). 90 minutes from Bologna Airport (BLQ): direct flights to/from Europe, America, Asia and Russia.
BY CAR
15 minutes from the highway:in few hours it links Ancona to the major Italians town as Bologna, Rome, Venice and Milan.
BY TRAIN
5 minutes from the railway station: thanks to fast train connections you can easily move to Rome, Bologna, Rimini, Milan, Venice and Florence.
BY FERRY
3 minutes from the ferries terminal: daily ferries connect Ancona to Croatia, Greece and Albania.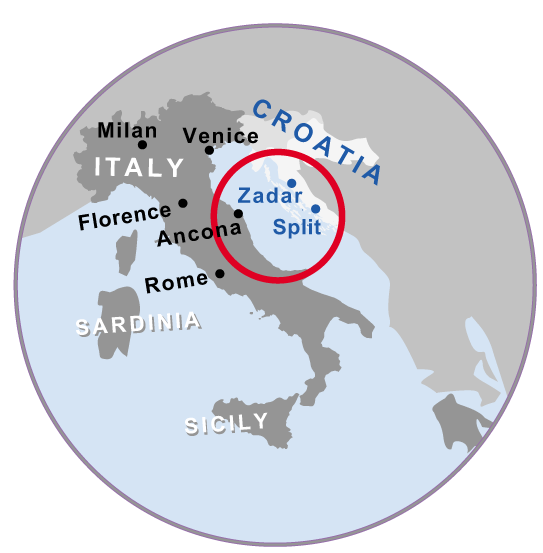 PRICES
The Marina finger piers offer berth places which can accommodate yachts with various sizes (13x9m, 13x4.5m, 17x5m, 17x10m). There's a range of services included, such as parking, WI-FI access, water and electricity supply at the quay. We also offer a complimentary satellite tracking service (CharterSat). Ask for a quotation now to find your individual pricing plan to accommodate your wishes and needs and discover special rates for new clients. Monthly berth rates displayed can be extended to a yearly berth in water, or a combined solution with a place on hardstand. Please feel free to contact us to find the solution that suits you best.
MONOHULL UP TO 13 M
Berth with finger 13 × 4.5 m - (42.7 x 14.8 ft)
Electricity
Fresh water
Wi-Fi
Parking
Transfer from Ancona train station and airport
VAT and taxes included
MONOHULL UP TO 17 M
Berth with finger 17 x 5 m - (55.8 x 16.4 ft)
Electricity
Fresh water
Wi-Fi
Parking
Transfer from Ancona train station and airport
VAT and taxes included
Catamaran up to 13 m
Berth with finger 13 x 9 m - (42.7 x 29.5 ft)
Electricity
Fresh water
Wi-Fi
Parking
Transfer from Ancona train station and airport
VAT and taxes included
Catamaran up to 17 m
Berth with finger 17 x 10 m - (55.8 x 32.8 ft)
Electricity
Fresh water
Wi-Fi
Parking
Transfer from Ancona train station and airport
VAT and taxes included
CONTACT US
LANDLINE: +390712804528 − MOBILE / WHATSAPP: +393388884066 − MOBILE 24/7: +393292162109
Ancona Italy Berth is a trade brand of Mariver