Jasper and his family from New Zealand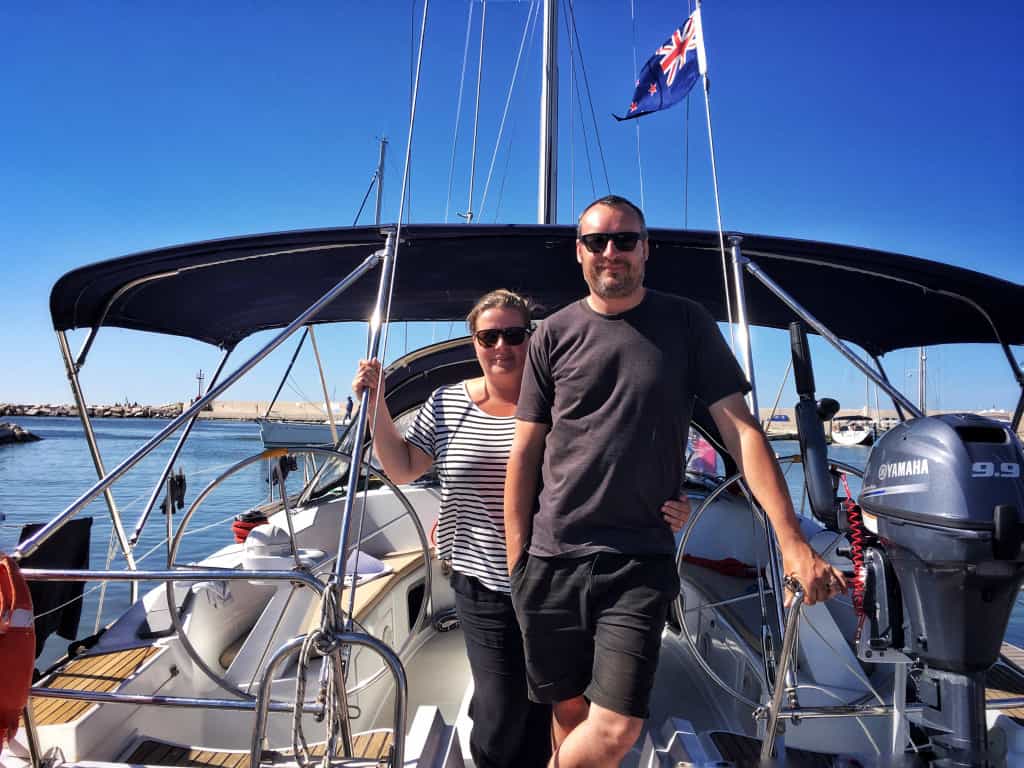 You must have travelled a lot on boat, right?
Well, we started in Croatia last October because we bought our boat there. So we've travelled from Croatia to Ancona and we did a little bit around Croatia: we sailed between Zadar and Split, then travelled to Dubrovnik and had a look at everything around there. But since the weather was cold we couldn't enjoy everything. We left at the end of January and then we've stayed for 3 months here in Ancona – for February, March and April.
Now we are going back! We're leaving tomorrow and heading to Croatia for a couple of weeks to do all the islands that we've missed. There're so many and they're all beautiful! We're also looking forward to go for a swim!
Yes, it's getting really hot already!
So how have you found Ancona Italy Berth?
I was looking for marinas our last night in Croatia and… Alessandro came back to us straight away! He's very professional, and it made us feel comfortable. You know, we e-mailed a lot of marinas but they wouldn't even come back to us half of the time! Alessandro replied the same hour that I texted him. Plus you guys also have Whatsapp and that's crucial for us, cause we don't want to buy a new sim-card in every single country we go. It makes life easier for sure cause most cruisers have Internet.
In general, what are the main points that you consider when choosing the marina? Like, why have you chosen this one?
There were few factors important for us. One is that with New Zealand passport you can only do 3 months in one country, then you have to leave. So Italy was perfect to sail from Croatia because it's so close.
And one of the reasons why we chose this Marina is because it's very close to Rome and all principal cities. We haven't been to Italy before so wanted to see everything. Ancona seems like a hub, everyone arrives here by boat or ferry and then takes off to different parts of Italy. It was a huge factor for us.
Also, all marinas where we have stayed before were charter marinas, so there was no social aspect. A very lonely existence. But when we got here, we met lots of people and hung out, you know, having drinks on the boat together. This is one of the whole reasons why we're doing this trip – so that we and our children can meet people from around the world.
The other important thing was that Alessandro has checked us in. When you arrive in Croatia, you must physically take your boat entire up to the dock outside of the port control police and show your passports, then you must go to the harbor master, show your papers and all, but here we didn't need to do it! Alessandro has checked us in, we didn't even have to go anywhere. He really took care of us, I could have a beer while we were checked in the new country, that's amazing!
And honestly, we thought it was quite a good value for money. Croatian marinas are more expensive to start with, and then you pay extra for water, power and Internet, and they're really expensive. Like, shockingly expensive! So by comparison it was a really good deal.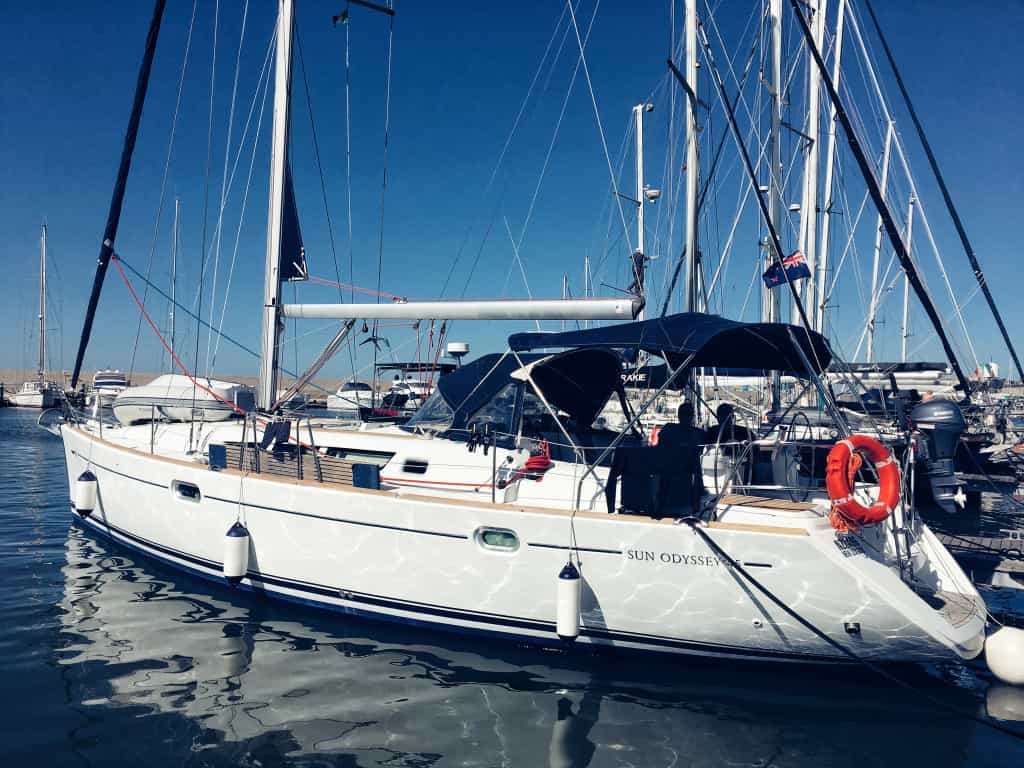 We also like the finger piers — we had to do a lot of works on our yacht and that was a very positive thing. In other marinas you can't work on your boat, but here you can just put it around and do both sides. It's also safer when coming up and down from the boat, so this was a big plus for us to stay in this marina.
And we did like the showers! You can turn it and just leave it on, while in all other marinas that we've stayed you need to push the button, it lasts for 30 seconds and then goes off leaving you with the shampoo all over your eyes!
We also had work done on our rigging here and we used Welcome Sails, they were fantastic. You've got good workers and it's very important do have a good job done on your yacht. And they've done it really quickly for us cause my visa was running out, so it was a great bonus!
And you're satisfied with the result?
Definitely!
I'm happy to hear that! So as you said, you found the location of Ancona quite comfortable to move around, right?
Yes, everything was quite easy. I mean, the train station is just here, very close! I had to go to Tokyo for work and was able just to take a train to Rome and catch my flight.
And you have also explored Italy a little, haven't you?
Yep! We've done Venice, Rome, Florence, Pisa and it was great! We also drove up to Rimini and went to Italia in Miniatura, you know, the theme park, just a little drive away, amazing place for kids. I know there's so much more to see here, but you just can't see it all!
That's true! Have you also seen something in the region, here close by?
We went to the beach of Riviera del Conero, which was lovely, and to Frasassi caves! It was awesome! We were just like… jaw dropped! We don't have anything like that in New Zealand, you can't help but just be blown away by it.
We also have walked pretty much all around Ancona. We went to the Archeological Museum and to the church on the top of the hill (Duomo di Ancona), walked to the monument of Passetto. Ancona is lovely!
I'd also highlight that it has snowed — it was really great for us, we loved it!
By the way, as people coming from far away, have you found something particularly valuable here? In this city, in this region?
We're blown away by the history, by old architecture… we don't have it New Zealand. It's quite a new country so we don't have all those old churches, the ruins and old towns, anything like that. It's just so completely different for us! Italy goes back so far and if you live here you might take it for granted, but for us the history here is amazing. And it's everywhere you go, every little town is very rich with history. I really can't get enough of it, we'll definitely come back to Italy one day.
Indeed, Marche region is full of such jewels, both of nature and culture, like the caves, Monte Conero, the Sanctuary of Holy House in Loreto… It's a pity that it's almost unknown abroad. Like, have you ever heard about it before coming here?
No, we had to look up on the Internet where's Ancona! But it also has a nice side: you know, when you go to Rome, it's great for 3 or 4 days, but then it is really lovely to come back. Ancona is not a fast place, not overwhelming like Venice and Florence and coming here you can relax and recharge your batteries. And no people trying to sale you things!
Have you tried any local food? Did you like it?
We usually cooked on board but we loved local cheeses and meats. I always said I would love to travel around the world just to eat food! Cuisine is very diverse here, we knew we should just go out of Ancona and visit the small towns around to taste everything but we didn't have time to do all since our children have to study (they follow online classes) and there's a certain amount of routine. We can't do sightseeing every single day.
Did your kids also enjoy their stay here?
Definitely. Much more than in the last marinas we were staying, it's more coming and going. And there's a gelato shop!
But was there anything that you found uncomfortable here in Marina? Like, some facilities that lack?
Well, what this marina needs is a laundry. Like, a self-service one that we use in town.That would be really handy. But other than that everything's fine.
So all in all did your stay match your expectations?
Exceeded them! We didn't know what to expect but we're really happy. We were just saying that it's been a great stay, a really nice time for us.
Thank you. Where are your setting your sails tomorrow?
We're going back to Croatia, to Sali Otok, and we'll sail around for 2 or 3 weeks. Then we'll hit straight to Greece for 3 months. Afterwards we'll sail home to New Zealand.
How long does it take to sail to New Zealand?
About 2-3 years.
Well, I'm sure you could do it more quickly than that but we're holidaying at the same time.
Thank you very much, I'm happy you enjoyed your stay at our marina. We'll be happy to see you back whenever you want!
Absolutely! We'll move here when we retire!